Guest Posts, Book Reviews, and Parent Testimonials
If you would like to submit a sensory story, sensory journey, or how "Understanding Your Child's Sensory Signals" has changed they way you parent your child...please submit your post or story here!


---
Book Review for Understanding Your Child's
Sensory Signals

---
---
Guest Posts by: Sensory Speak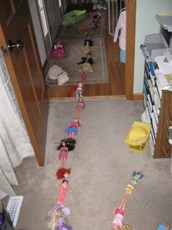 ---
---
I Cry, Therefore I Am
---
Comfort in the Midst of Chaos
---
Sensory Success!
Success story of a 3 year old girl Written By: Her Mom
A year ago...in comparison to the present• Only wanted to wear footed blanket sleepers-then graduated to clothes with tights under. Now wears anything!• 1st percentile for weight- now 10th!• So picky, would hardly eat anything.- Eats much, much more.• Cold water made her cry from pain. – Played in a lake/river the last 2 weekends!• Standing barefoot in sand or grass made her cry. – Runs in sand and grass barefoot!• Clung to me sucking her thumb most of the day. – I rarely hold her now!• Refused to socialize most of the time. Even with Grandparents/cousins/ and good friends. – Hugs Grandma, plays with cousins & friends. Even has a friend she has play dates with!• Woke up throughout the night crying. – Sleeps most nights all night long.• So terrified of balloons we couldn't go near one even in a store. – Told me she likes balloons now and isn't afraid of the pop because she can cover her ears.• Never ventured anywhere but the swings at the park. – Goes on slides, monkey bars, bridges, balance beams, willingly and happily! Went down a water slide with cold water spraying on her!• Screamed most mornings on the way to sister's school. – Now happily climbs in her seat and sings to Taylor Swift. ☺• Looked pale and gaunt. – Looks healthy and full and rosy in the cheeks!• Fought with me over every little item of clothes to put on. – Happily tries on new clothes and wears what I tell her to.• Refused to separate from me and only did so with lots of tears and anxiety. – Goes to preschool and her friend's house happily!• Spent most of her days screaming and crying. – Spends most of her days happy and acting like a typical little girl.• I couldn't vacuum or turn on the blender because she would get so freaked out. – Vacuumed today! When the noise bothers her she covers her ears without screaming.• Was hard to enjoy parenting. –Brings me so much joy!!!

---
My Girl – Before and After OT

Success story of a 5 year old girl Written By: Her Mom
I stopped wearing my wedding ring because she refused to touch metal...now holds my hand regardless if I have a ring or not
Sat with her preschool teacher on a bench during recess...now leads a pack a friends in games of tag
Refused to wear any pants with buttons – i.e. jeans...now wears a variety of jeans and corduroys
Wore headphones on airplanes, at concerts, and noisy venues...now has given her headphones to her brother
Scared of all men, even father's of her friends...now chats freely with all adults – even requested a male teacher
Never wanted to be left alone at ballet and gymnastic classes...now gets drop off for play dates, ballet, and piano
Scared of most park equipment...now loves swings and slides and even roller-coasters
Wore her hair in braids everyday to keep it from touching her neck...now wears her hair long
Required us to arrive early to most events in order to "warm up" to the different environment...now is known to arrive quite late with no problems
Needed a strict schedule to feel secure – any changes would cause a meltdown ...now allows us to live a flexible, fly-by-the-seat-of-our-pants life
Had a challenging time relating to kids her age – holding conversations, making eye contact...now has an active social life full of play dates and birthday parties
Scared of swimming pools – never wanted to put her head under water –didn't like the sensation...now has completed 2 years of private weekly swim lessons where she just mastered the butterfly
Stood behind me, painfully shy in group situations...now performs at piano recitals on stage and sings along to her pieces
Allowed her fears, and SPD to prohibit her from living life...now she puts fun over fear and is free to play, run and to be happy