Angie Voss, OTR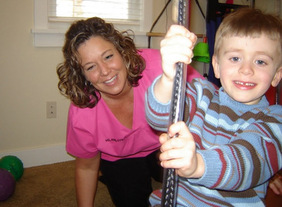 Angie is a registered occupational therapist specializing in sensory integration treatment techniques and sensory processing disorder. She attended University of Florida and San Jose State University, where she also completed an extended internship in a sensory integration clinic. Angie has always been dedicated and passionate about her work with children, with a deep down, true adoration and respect for sensory kiddos. From day one in her sensory integration clinic internship she KNEW this was her calling and perfect career path. She excelled and naturally understood the concept of sensory integration and had a dramatic and positive impact on the life and progress of her very first little patient, even as an intern! From that internship forward she knew she was in the right place with the right career and has spent the last 20 years advocating and impacting the lives of countless children with sensory differences and SPD.
Her experience includes work across the country in different clinical settings including the NICU, pediatric inpatient and outpatient rehabilitation, as well as contract and consulting work with state early intervention programs. The last 7 years were spent in her private practice Sensory Solutions, PLLC in Boise, Idaho. Over her career Angie also has presented and provided training and workshops for many different groups including parents, colleagues, teachers, and physicians. Recently she has transitioned to focusing her career as an author of sensory books as well as developing UnderstandingSPD.com which has now transitioned to ASensoryLife.com. She is involved in a community outreach project to promote awareness of the early signs and red flags of SPD.
Angie has published three practical, easy to read and understand, yet very effective,
handbooks
which have quickly become an essential part of daily sensory programs in homes and classrooms all over the world! The reviews and feedback from parents and teachers have been so encouraging and uplifting, knowing that families and teachers are being reached simply by the use and application of the techniques recommended in the handbooks!
Why are these
sensory handbooks
different than the rest?
As you will see once you dive into these handbooks...they are written completely based on the experience and knowledge that Angie Voss, OTR has learned and applied in the clinical setting over her career. The books are written solely on her experience and understanding of the application of the sensory integration theory. Time is not spent referencing any studies or other publications as all of the information is exclusive content. The handbooks get right to the point, and Angie is sharing the sensory techniques and strategies that have worked for hundreds of children over her career! As you will see, each and every page in the handbooks give you sensory tools and strategies in easy to understand language so you can get a solid grasp on what SPD and sensory integration is all about! This type of information is only derived and achieved through experience and dedication...and most importantly based on techniques and simple sensory strategies that have worked...over and over again. For further information on these one-of-a-kind books, check out the
Sensory Bookstore!