Guidelines for Hanging a Swing or
Other Suspended Equipment in the Home
Release of Liability:
These instructions and guidelines are provided as a resource tool for general advice and recommendations regarding installing a swing in the home. Each situation is unique and it is the reader's responsibility to ensure the safe installation of a swing in the home.
This notice serves as a release of liability for ASensoryLife.com and Angie Voss, OTR.
---
Basic Steps for Installing a Swing in the Home:
Obtain a lag eye screw, at least 1/4 inch in diameter and with the longest threads possible.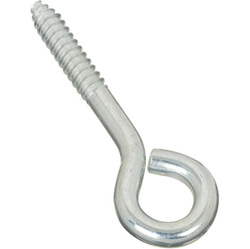 A rotational device is strongly recommended, as it serves as the movement point for the suspended equipment, and therefore will minimize the rotation of the eye screw in the ceiling. Here are 3 great options.
Installing the Eye Screw:
Locate the center of the ceiling joist/beam. Use a stud finder to first locate the beam and then small finish nail tapping to locate the center of the beam.
Pre-drill the hole, making sure it is smaller than the size of your eye screw.
Use a screw driver or wrench to twist the eye screw securely in to place. (The will take some muscle to twist in.)
Obtain 2 rock climbing strength carabiners, one to attach to the eye screw and one to attach to the far end of the rotational device.
(Please note: some swings do come with one or more carabiners)
Attach your swing and you are ready to rumble!